CHOICE TOOLS
SCHOOL VOUCHER FOR GIRLS
400 girls from underprivileged community in North East Delhi were awarded vouchers worth upto Rs. 3700 per year
More [+]
ACTION FOR SCHOOL ADMISSION REFORMS (ASAR)
LYSA: South Asia Youth Summit 2008 - Towards Democracy, Peace and Open Borders
SCC partnered with Liberal Youth South Asia (LYSA) to conduct the South Asia Youth Summit (SAYS) at the Constitution Club, New Delhi on the 24 and 25 November 2008. The Summit provided a platform for youth in the age group of 18-30 from various South Asian countries to interact, debate and understand the common issues confronting the region from a liberal perspective.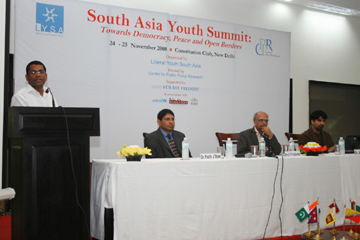 School Choice Campaign team conducted a 90 minute panel discussion on Quality Education for All: Choice and Competition. Professor P. V. Indiresan, Former Director of IIT Madras, chaired the session while Dr. Jishnu Das, noted economist with the World Bank and Dr Parth J Shah, President of Centre for Civil Society were the speakers. The session was well received and witnessed extensive participation of the delegates.
Over the two-day event, 106 delegates were exposed to a variety of discussions and debates culminating in the Summit Declaration and Plan of Action for next year, which included advocating Right to Education of Choice in the South Asian countries.