Registry: Fund School Vouchers
Do you believe in the Right to Education of Choice?
If yes, give poor children the opportunity to choose the best schools for themselves on your special day. Be it your wedding, birthday, anniversary or the holidays, get your friends and family to contribute and fundraise for this cause.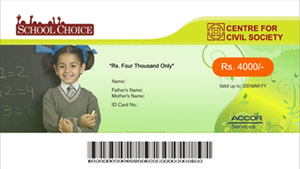 How does this registry work?
It's simple! Invite your guests, friends and family to make a contribution to our 'Fund School Vouchers' registry in lieu of gifts. You can invite your guests to:
Send a cheque
Wire transfer / Net transfer
The School Choice Campaign currently funds 808 students (408 in Delhi Voucher Project and 400 in School Vouchers for Girls project) through vouchers. These vouchers enable them to escape the crumbling government education system. For these poor students, vouchers have proven to be a tool of empowerment allowing them access to schools offering better quality education and enabling them to hold these schools accountable for performance. With your support we hope to expand this program to provide millions of poor children in India an opportunity to choose the best schools.
If you are interested in creating your special registry with us please email at [email protected] or call 011-26537456/26521882.
To view what your registry can look like click here.