September 2009 Dialogue
Right to Education: Will it be enough?
Panel discussion on the recent legislation of the RTE Bill 2009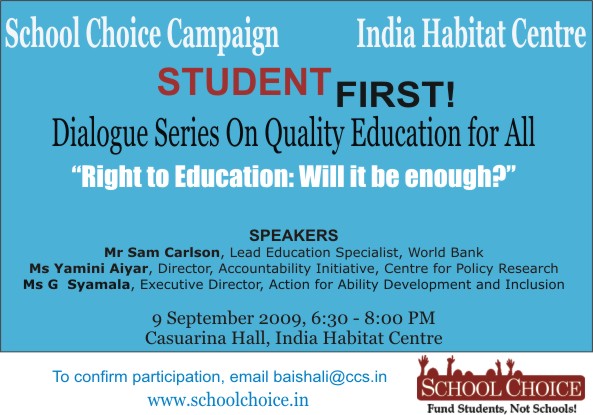 The Right of Children to Free and Compulsory Education Bill 2009 has been the single-most, significant legislative business in the recently concluded Parliament session. The Right to Education bill (as it is commonly known) is the enabling legislation to the Eighty-sixth Constitutional Amendment which guarantees education as a fundamental right to every child between the ages of 6 and 14 years in India. The legislation, passed unanimously by both Houses of Parliament, promises to transform the elementary education landscape. The promise, potential and pitfalls of this historic legislation were central to the Student First! Dialogue Series held at the India Habitat Centre on 9 September 2009.
The topic for the evening's discussion was Right to Education: Will it be enough? The panel of experts represented the fields of education, development work and public policy to provide a multidimensional perspective on the issues surround the Right to Education.
Mr Sam Carlson, Lead Education Specialist – World Bank, addressed the 'quality' aspect of the legislation. Mr Carlson raised interesting questions on the perception of quality in education as well as putting forth the case for considering socioeconomic factors, other than those determined by just school environment, to measure learning achievements.
Ms G Syamala, Executive Director – Action for Ability Development and Inclusion, shared her experiences working with the government to make the RTE Bill more inclusive, and outlined the challenges faced by children with disabilities. Ms Syamala argued that the access to education for persons with disabilities was not just hindered physically but also from mistaken attitudes.
Ms Yamini Aiyar, Director – Accountability Initiative (Centre for Policy Research), presented her views on how the accountability of the fundamental Right to Education will be guaranteed by this legislation and strongly impressed upon the need for local monitoring of this right. Ms Aiyar proposed that local monitoring bodies be given greater powers and resources to ensure greater accountability.
The discussion following the presentations addressed the challenges in quality, access and accountability facing the government and outlined ways and means to overcome the same. The event was one in the series of longstanding engagements for the School Choice Campaign with the Right to Education bill.
For more information on the legislation, analysis and research, please visit: http://schoolchoice.in/campaigns/rte.php
Ms Baishali Bomjan welcomes the panel and the participants

(L-R): Mr Manu Sundaram, Mr Sam Carlson, Ms Yamini Aiyar, Ms G Syamala

Mr Manu Sundaram moderating the panel discussion

Mr Sam Carlson, Lead Education Specialist, World Bank making his presentation

Ms Yamini Aiyar, Director, Accountability Initiative, Centre for Policy Reseach sharing her viewpoints

Ms G Syamala, Executive Director, Action for Ability Development and Inclusion presenting her viewpoints

Audience present during the discussion